news
06. June 2018
Strategic partnership with Zebraxx: Kuehne + Nagel further enhances global track and trace services for last mile deliveries
• Closer collaboration with Zebraxx to broaden service options
• Accelerating innovation in last mile shipment visibility
• Enhanced connectivity via social messaging

Schindellegi / CH, June 6, 2018 – Kuehne + Nagel and Zebraxx, a leading application service provider of logistics solutions, have entered into a strategic partnership to provide innovative last mile shipment visibility for Kuehne + Nagel's customers, further enhancing Kuehne + Nagel's eTouch capabilities. The partnership will bring the two companies into closer collaboration, accelerating innovation technology with delivery execution tracking solutions. Kuehne + Nagel customers have enjoyed the benefits of Zebraxx for several years; in 2017 almost 10 million transactions have been handled by the system. Now, the growing alliance will strengthen Kuehne + Nagel's capacity to offer additional methods for collecting and sharing delivery information, such as real-time vehicle location, photographic evidence of the state of consignments and delivery confirmation, IoT validation or electronic proof-of-delivery (ePOD) – independent from backbone systems and carriers used. Customers will be further integrated in the data exchange; enhanced functionalities on mobile devices, like alerts or ePOD via social messengers, will improve the seamless interaction along the supply chain. Working with KN Login, Kuehne + Nagel's monitoring and visibility platform, customers will benefit from a standardised single source for all delivery information, which further enhances the customer proposition and supports wider geographic roll-out. Gianfranco Sgro, member of the Managing Board of Kuehne + Nagel International AG, responsible for Contract Logistics: "We are seeing an increasing need for improved visibility solutions to service our customers. As our environment becomes more and more digital, customers are demanding greater flexibility and options in the solutions we can offer them and all at a lower cost. Zebraxx has demonstrated a willingness to embrace innovative and imaginative ideas and transform them into valuable solutions for our business and our customers." Bernd Heymanns, Managing Director of Zebraxx: "We are in a long lasting working relationship with Kuehne + Nagel. This formalisation and commitment to partnership brings our companies closer and provides the platform for us to work on some exciting projects together, enhancing last mile shipment visibility for the customers worldwide."
15. August 2013
Zebraxx extends telematic solution ZEBRAXX4Android with mobile document management
"Our latest update of ZEBRAXX4Android also supports mobile document management with a standard, usb scanner at a very competitive price. Power supply is given from the usb port of the mobile phone and the resolution of the scanned image reaches the quality of actual office devices." states Bernd Heymanns, CEO Zebraxx AG.

"Many actual mobile phones with the Android operation system already support our cost efficient, mobile usb scanner solution. The data transfer in our web portal is done in realtime and of course the scanned pod´s are available to all parties of the supply chain promptly. A real competitive edge for our customers and their partners. All communications process are accelerated and andone can react on deviations in the logistics process on short notice."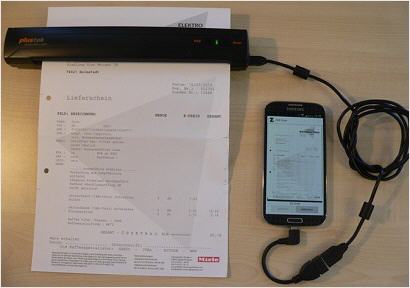 USB-Scanner at a Samsung S4 Android

10. Januar 2013
Zebraxx leads mobile telematic client ZEBRAXX4Android in production environment
You are looking for a full-fledged gps-based telematics system without investment costs? You are looking for a solution to transfer order-, status- and messaging data in your trucks and register working times easily?
You like to document damages during the transport process with a camera or register additional information during the delivery e.g. signatures of the recipient, empties or unloading weights by your drivers?
Go for the usage of ZEBRAXX4Android telematics solution. At the extension of you mobile phone contracts you´ll receive e.g. the Samsung S4 from 1,- €.
Due to internal GPS, GSM/GPRS, camera, car mounting and world wide navigation you´ll receive a mobile phone and a full-fledged telematics system. ZEBRAXX4Android is supported on most of all Android 2.3x resp. 4.x mobile phones, like the Google Nexus. With ZEBRAXX4Android you can send order information and text message directly from your transport management systeme, like Winsped from LIS AG or Carlo from Soloplan or use the Zebraxx Webportal; you can exchange free text messages with your drivers and receive configurable status messages on order, shipment or package level. In case of a transport damage you can use the internal camera to document the damage. A complex installation in the truck is not required as the device uses internal GPS and GSM antennas of the mobile phone.

07. September 2012
Zebraxx acquires geqoo boxes and geqoo coolchain
We are glad to announce, that Zebraxx contracted a strategic partnership with ubigrate GmbH and the operational business, support and further development of Geqoo Boxes and Geqoo CoolChain are secured on the long run.

"We ensure with the acquisition of the two innovative logistic Geqoo boxes und Geqoo CoolChain for the geqoo customers the further development of the plattform and of course will further expand the sales team." states Bernd Heymanns, CEO Zebraxx AG. "We extend our product portfolio by two sustainable software solutions to process near data collection in production and supply chain according to our future expansion strategy."

Aboit ubigrate GmbH
ubigrate is a specialist in business activity monitoring and technology leader for the integration of heterogen device landscapes in production and logistics. The software products register process information in realtime, evaluate data and build high transparency in any producion- or logistic process. Reuslting in relevant cost savings and less energy consumption as well as noxious emissions.
The product line Geqoo offers standard procucts for container management and cool chain monitoring based on web technologies. They can be used on demand as a software-as-a-servive solution. Ubigrate developes specific solutions for OEM-partners, completing their product portfolio. The company is a spin-off of SAP Research Dresden.



15 December 2008
With ZEBRAXX4Tacho ZEBRAXX integrates the digital tachograph analysis into the ZEBRAXX web portal in real-time.

The relevant technical vehicle data can now be analysed and thus optimised right from the desks of your dispatchers. You get insight into the driving, shifting and braking behaviour of your drivers and can see at any time how much fuel has been consumed. This is easy with the real-time transmission of the data via the FMS interface. Driving behaviour is evaluated using a well-thought out point system.
This lets you optimise your dispatch and save costs because your drivers drive more economically.
ZEBRAXX4Tacho/FMS also offers an interface to the digital tachograph (DTCO). The driving times and downtime of your drivers are available to your dispatch in real-time. This guarantees that you can continuously monitor any overruns.

Your benefits at a glance:
• Real-time transmission of the digital tachograph's data (DTCO)
• Transfer of technical vehicle data via FMS / CAN bus
• Cost savings through fuel-efficient driving
[more…]

17 October 2008
ZEBRAXX AG Europe adds route planning solutions to its product portfolio. Professional route planning for transport companies with no investment costs
• Graphical dispatch of your transport orders/routes
• Integrated function for calculating freight costs

Free usage for existing ZEBRAXX customers ZEBRAXX AG Europe now offers "ZEBRAXX4Dispo", an additional module in the ZEBRAXX system for route planning. The dispatcher only needs a normal web browser to schedule complex routes or allocate combination shipments, partial or complete loads in the ZEBRAXX system. Because it is completely integrated into the ZEBRAXX system, all relevant telematics data, e.g. to analyse standstill times, is optionally available to the dispatcher. He can keep an eye on the current progress along the route and maintain an overview of text messages and drivers' driving times & downtime.
It takes just a few clicks of the mouse to allocate orders to subcontractors or calculate freights costs with the integrated function. Everyone involved in the process has online access to their shipments with the integrated shipment tracking module. The subcontractors use ZEBRAXX to submit status reports both quickly and easily. Optimised workflows thus guarantee quicker payments.
The ZEBRAXX AG experts integrate ZEBRAXX4Dispo completely into the customer's logistical processes. There are no investment costs or setup charges. The use of ZEBRAXX4Dispo is free of charge for existing customers.

24 April 2008
ZEBRAXX AG Europe integrates into the ZEBRAXX System:Europe-wide, real-time RFID solution

• Can be used without investment costs, e.g. with Nokia 6131 NFC mobile telephones
• Starting at €15 per vehicle per month

Trial period available upon request With , ZEBRAXX AG Europe now offers another European-wide innovative module in the ZEBRAXX System. The RFID can be completely integrated into inventory management and ERP systems through the mobile Zebraxx4RFID solution,
e.g. with the Nokia 6131 NFC mobile phone. The drivers employed by the transport service provider can scan the delivered goods via RFID without having to invest in expensive hardware and software. The status data is available in real-time in the ZEBRAXX System and/or the connected customer systems.
With Zebraxx4RFID, transport companies and logistics service providers can continue to verify, for example, the location of their drivers for store deliveries. This considerably minimises the likelihood that packages are mixed up and the associated costs.
The ZEBRAXX AG experts integrate Zebraxx4RFID completely into the customer's logistical systems. There are various rates available starting at €15 per vehicle and month. With the exception of charges for data transmission via GPRS or UMTS, there are no other ongoing costs or even investment costs. Our Support team would be happy to answer any questions.


20 August 2007
Our "ZEBRAXX for Symbian" application turns your mobile phone into a real-time telematics system with no costs for additional hardware, such as a GPS receiver. You can track the location of your mobile phone at any time on the internet, for example, to monitor your fleet.
The following mobile phones are currently supported: Nokia 3250, 5500, 6110 Navigator, 6290, E50, E60, E61, E61i, E62, E65, E70, E90, N71, N73, N75, N80, N91, N92, N93, N95.
Using "ZEBRAXX for Symbian" is remarkably easy: you install the software on your mobile phone and positioning can begin.
The position data then is available on the ZEBRAXX internet telematics portal in high-end, zoomable maps. This makes telematics fun! Click [here] for the free trial version.
Our Support team would be happy to answer any questions.

04 November 2006
Using our new ZEBRAXX Standstill Analysis, you can analyse at any time which vehicle has remained for how long at which loading or unloading address. As a user of the ZEBRAXX Telematics module, the ZEBRAXX Standstill Analysis is available free of charge and comes with easy-to-use filter functions. Optimise capacity utilisation of your vehicles and limit the amount of time they're standing still.

13 October 2006
A new and very interesting tool has now been added to our range of products: the ZEBRAXX Carrier Portal. as a user of the ZEBRAXX System, you can provide your transport service providers with a central portal for transmitting status data. Individual analyses and analysis tools make it possible for you to get an overview of your carriers' performance at any time.

01 July 2006
The tried and proven ZEBRAXX-GPRS is getting a younger brother: the ZEBRAXX-GPRS light. This new module is geared toward all customers who don't need interfaces for PDAs or external modules such as one for temperature monitoring. The box, which is easy to install in the vehicle thanks to its standard connections, transmits the current GPS position of your vehicles to the ZEBRAXX System via GPRS, to-the-minute and up-to-date.

1 February 2006
The integration of the Gotive H.42 into the ZEBRAXX System offers a variety of possibilities on the telematics market:
The benefits of the new handheld PCs are brought together with the benefits of ZEBRAXX shipment tracking to create a turnkey solution that offers you the best possible reliability and transparency.


15 April 2005
The ZEBRAXX-GPRS module is now available in the ZEBRAXX System. The affordable, packet-oriented data transmission gives you a to-the-minute overview of the location of your vehicles. Because a PDA can also be connected to the system, your drivers also have automatic navigation at their disposal and they can transmit order data to the vehicle. It is also possible to monitor the temperature in the trailer.

1st April 2005
For our mobile users the ZEBRAXX-PDA application is immediately available. After the easy installation on your PDA even on the way all messages of your supply chain are always with you. At the moment available for PDAs with Microsoft Windows Mobile 2003 Second Edition.

16th October 2004
We announce the activation of positioning with the ZEBRAXX & TrimTrac unit. Due to the high accuracy of the GPS system and of the widely expanded GSM networks our customers get a system being able to locate their truck and trailers nearly world-wide. Owing to a design saving electric current, to integrated antennas and to the integrated PIR alarm the TrimTrac enables an easy exchange of vehicles.

1st September 2004
Since today the function of the ZEBRAXX-Location based service for mobile phones is available for all users. Having connected your mobile phones you can trace the position of one or more mobile phones in the internet. Your drivers just need a conventional GSM mobile phone.

5th March 2004
In February the first time more than 3 million transactions were processed in the ZEBRAXX System. We thank our customers for the confidence put in us and are looking forward to many further transactions and customer contacts.